Suzanne Fiore: Photographer

The following is written by

 

Suzanne Fiore, a professional photographer who became inspired to document the familial relationships of people with disabilities by her uncle who had Down syndrome. For any families interested in learning more about Suzanne's work or participating in a photo session, she can be reached at

 

www.suzannefiorephotography.com. 
When I was a child, my sister and I spent a lot of time at my grandmother's house when my parents went to work. My grandmother, grandfather, and
Uncle Kenny
lived in the red brick house at the bottom of a hill that was perfect for speeding down when I rode my big wheel. When my sister and I would walk into my grandmother's house, we received the biggest hugs, kisses galore, and a few painful pinches of our cheeks!
My grandmother's love was boundless. That love was not only shown to us through her hugs, kisses, and pinches on the cheeks, her delicious food, or her willingness to sit and play solitaire with us for hours. It was shown to us through her love for my Uncle Kenny, who had Down syndrome.
My uncle was limited in his ability to do many things on his own, including speaking and feeding himself. He needed constant care and supervision. My grandmother would always tell us of when he was born and how the Doctor suggested she put him in a home to be cared for. My grandmother visited the "home" only to find overcrowded rooms where people with special needs were practically living on top of each other without enough people to care for them. My grandmother would say "When I saw how they were going to supposedly care for my son, I took him home to really care for him myself." And she did. To the very best of her ability, she and my grandfather cared for their son 24 hours a day for the rest of their lives. My grandmother lived to be 86 yea
rs old and my grandfather lived to be 95 with my uncle by their side until their last days.
What came with that depth of love was extreme sacrifice. Although they had my incredibly selfless mother by their side – always showing up to care for her brother alongside my grandparents – they often felt stuck in their home for fear that my uncle might react in a way that they wouldn't know how to handle in public. "What if he vomits when we're out to dinner?" "What if we can't find a bathroom?" "What if he punches himself?" Those concerns kept them homebound mostly. There was far less societal awareness and acceptance when my grandparents were raising my uncle. Far fewer opportunities and a lot more fear of judgment.
When my grandparents died, my mother became Uncle Kenny's primary caregiver. She struggled with what was best for him moving forward. She wanted to honor the story my grandmother had told us of how she refused to leave her son in a home. But she also knew that so much had changed in that regard. We, as her family, encouraged and supported her to consider giving him a new chapter in his life and my mother found the most loving home for Kenny. In fact, because of the loving and courageous choice that my mother made, my Uncle Kenny participated in events that he never had before. He was happy, he had new friends, new experiences, people who truly cared for him and he always had my mother by his side. My mother cared for my uncle from the time he was born until the day he died. She is behind so much of why I am passionate about offering my services and experience to others. The relationship she had with her brother is an exemplary lesson in love.
Now that my grandparents and my uncle are gone from this life, I have noticed a lack of tangible evidence of the incredible love and care that took place in that red brick house. The way my Uncle smiled when my grandmother sat close to him at the kitchen table and whistled. The way she gave him his morning coffee with a spoon. The way my grandfather clapped hands with Kenny. Even the moments of frustration and fatigue: The moments when my Uncle cried and we didn't know why or how to comfort him. The moments when he would reach out and grab us by the shirt with a grip tight enough to be held there until he chose to release his grip. Moments of laughter and support. The strength my grandmother showed when lifting my Uncle from his chair. The way Kenny smiled when my mother walked into the room. His bond with the caregivers who cared for him when my grandparents died. Very few of these moments exist in the form of a photograph. I've searched for them thinking that something must exist. We have some posed family snapshots from birthdays and holidays, but even those don't tell the story of the legacy that my Grandparents and my Uncle left behind. I asked my mother if my grandmother ever considered having a family portrait taken. She said "No. Mostly because we never knew if someone outside of the family would have the patience and understanding to capture them all or how Kenny would react."
I often feel that my grandparents kept themselves hidden from the outside world in order to give my uncle the best care they thought possible, considering what was (and what was not) available to them at the time.
Not having photographic proof of the relationships that existed between my uncle and our family saddens me. I so wish there was a photographer who offered the patience and understanding that my family would have been grateful to have so that I could now share their legacy of love through a visual art form.
It's that wish that has fueled my passion to be that photographer for other families who may still have fear what a photo session would be like for their family. Or maybe it's simply a matter of not knowing exactly how to capture the important role that their family members play in our world. The story between caregivers and the person being cared for is an important story to tell but perhaps a caregiver's mind is too full to even think about how important they are or why having their photos taken would be thought of as a gift. I encourage that investment for themselves, for their loved ones, for today's society, and for generations that will follow. That relationship is a model that we could all truly learn from and admire.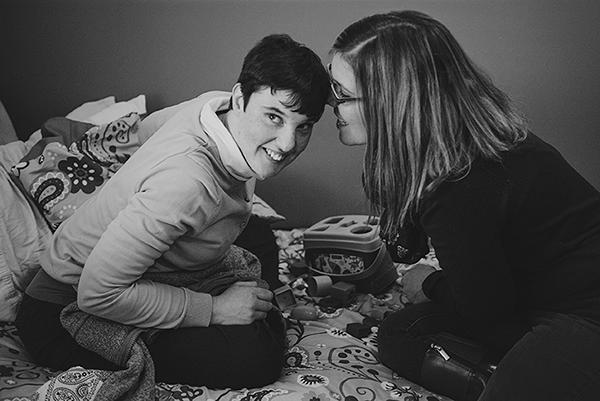 Today, there is so much more available to families who have a relative with special needs but there still seems to be, from my own personal observations, many families who don't recognize how much the world needs to SEE their contribution to our society. From my point of view – we could use a lot more visuals of us caring for one another to offset the rest of what we see happening around us constantly. I would like to be a participant in that idea. To show what unconditional love looks like. I want my work as a photographer to leave behind a legacy of a unique kind of love that exists within families where a loved one has special needs because I believe it's an important message. In addition to that, I want to gift those families with the proof of their own personal connection and loving kindness toward their loved ones for many generations to be inspired by.
This work is a tribute to my family and a big THANK YOU to them for showing me what true love looks like.