Archive for October, 2019
Husband & Wife
(Seattle, Washington)
Newsworthy: Everyday acts of kindness. (5)
A blog series highlighting the art of caregiving.
Photo narrative by: Wife
©Suzanne Fiore Photography
Early in 2019, my husband had odd symptoms.  Numbness and lack of feeling around his mouth along with excess saliva. In February, he noticed weakness in his left hand and started dropping things. These symptoms showed up slowly and he/we passed them off as annoyances, not anything to worry about. On February 14th, his fellow employees insisted that he leave work and go get medical care.  We talked about going to urgent care, but when I told a friend (with a nursing background) about his symptoms, she told me that he needed to go to the ER, not urgent care.  So, on Valentine's Day, we were at the ER instead of going out to dinner.  ER personnel looked at him, took vitals and sent him for a CAT scan.  They told us the CAT scan showed a "mass" on his brain and ordered an MRI.  The MRI showed he had brain cancer, most likely Glioblastoma! 
The next step was the Most difficult – tell our children.  Ironically, we were in the middle of a week of snow (very unusual in our area).  Our children dropped everything and were there the next day.
On Wednesday, Feb 20, my husband underwent hours of surgery to remove as much tumor as possible.  Because it was located near the motor skills control center, it was possible there would be additional side effects including paralysis.  The surgeon estimated 90-95% was removed and things looked very hopeful. After 4 weeks of recovery from the surgery, my husband underwent 6 weeks of chemotherapy and (brain) radiation, he was doing quite well.  Family, friends and medical personnel were very happy with his progress.  Unfortunately, blood tests showed low platelet (blood clotting agent in blood) levels. Levels were better by the end of May and he began the first of six treatments in June of double dose chemo med.  Again, his platelets dropped very low and he took meds to bring levels back up.  His red cell levels also dropped, his appetite decreased considerably, he lost energy and stamina and his attitude deteriorated. In late June, he had a seizure and he's alive today due to the valiant effort by his daughter who performed CPR and son-in-law who stayed on the call with 911 for advice on what to do. 
It was the end of July before his blood counts were high enough for him to take round 2 of chemo treatment. Once again, platelets plus his red and white cell levels were too low. He received two platelet infusions plus a blood transfusion in August. Finally, his medical team decided to reduce the dosage of the chemo medication.  It was September before blood levels were good enough to complete treatment 3.  He did fine – all blood levels stayed up and we've all been happy with the progress he's making.
In September, we traveled back to Seattle to UW Med Center for a follow-up with the neuro-oncologist who oversaw his treatment back in February.  He agreed with the process his local team was using, was happy with my husband's progress and said recent studies show 6 monthly sessions of the chemo med is optimal.  At the time of writing this (October 2019), my husband is in his 4th session of chemo and with the lower dose we don't expect any issues. His employer immediately offered short-term disability and our medical insurance continued, both of which have sustained us for months.  Because he would be 65 in July, we started the paperwork to begin receiving pension distributions, Social Security and Medicare. It's quite a process to complete all that, we're thankful the paperwork is done, and distributions have started.  He now also receives long-term disability. We are one of the fortunate couples that doesn't have to worry about finances.
So far, this has been a review of the physical aspects. Now I'll try to write about the emotional effects on me, the primary caregiver, and his children, grandchildren and friends.  We were all shocked and saddened with the diagnosis. At the hospitals in Seattle, his children and I were all under great stress and worry which led to high emotions and disagreements among us. For me, as Mom, this was one of the hardest parts: squabbling among my children. Thank goodness, we were able to talk things out and work together as a team.  We set up a Facebook group page to keep family and friends out of the area posted with updates and information and had much support from all included. 
Another difficulty for me was that I was now primary driver – it would be months before my husband would be able to drive (as of writing this, he still can't), especially after the seizure in June.  He has struggled with the loss of control over his life and abilities and when his frustration came out as "bad attitude", I really struggle to not feel hurt and angry.  On top of the emotional feelings, it was up to me to keep up with the medical and financial records, doctor appointments, be sure his medications were on hand and ready for him as needed, complete paperwork needed for retirement benefits, social security and a long-term disability.  Probably needless to say, I began to feel exhausted emotionally and mentally – my brain seemed "overloaded" and I had trouble keeping up with 'stuff' at times. To cope with this "stuff", I vented to family and friends, went for walks, made phone calls to family and friends, often when not at home (so I didn't upset Ross) and cried in private.   
I created an Excel worksheet to track low blood levels – it grew much larger than we expected as several months went by with weekly Dr appts and labs (sometimes more than once a week). In July, we had a weekend gathering with our 4 children, their spouses and children, we went to a grandson's birthday party, and we drove to a beach town to visit with a cousin of my husband who was vacationing there – things that he wouldn't have been able to do in June and definitely good breaks from medical stuff. 
In August, the weekly appointments continued, and we stayed close to home.  Family members visited in May, June, September and October and helped our morale considerably. 
In October, we've been able to make the 6-hour drive to the town my siblings and their families live in for visits and for community events. Visits with Family and Friends have definitely helped us through this. Things have improved since June physically, emotionally and mentally for both of us.  The need for platelet and blood infusion was more frustrating than worrisome and, at this point, things look good. 
My husband has come to terms with having cancer, has a better attitude when blood levels are good and looks forward to only 2 more sessions of the chemo medication.
Beginning in late July, he decided he didn't always need someone with him, has had no signs of a seizure and I've been able to enjoy some retail therapy. I've also enjoyed being able to work – it's been a good distraction from medical frustrations. Also, my employer is a Great Friend and has helped me tremendously throughout this ordeal.  Our children continue to support us, my siblings have helped when needed and many friends have called or messaged often to see how we are doing.
The sad part of our story is that the cancer my husband has does not go into remission nor can it be "killed". It is terminal and the primary way to find out if the tumor is growing again is with MRIs, which are planned for every 3 months.  From Day 2 we decided not to focus on what will happen eventually – hopefully later, not sooner.
For more information about Glioblastoma Multiforme, please click here.
Suzanne Fiore: Photographer

The following is written by

 

Suzanne Fiore, a professional photographer who became inspired to document the familial relationships of people with disabilities by her uncle who had Down syndrome. For any families interested in learning more about Suzanne's work or participating in a photo session, she can be reached at

 

www.suzannefiorephotography.com. 
When I was a child, my sister and I spent a lot of time at my grandmother's house when my parents went to work. My grandmother, grandfather, and
Uncle Kenny
lived in the red brick house at the bottom of a hill that was perfect for speeding down when I rode my big wheel. When my sister and I would walk into my grandmother's house, we received the biggest hugs, kisses galore, and a few painful pinches of our cheeks!
My grandmother's love was boundless. That love was not only shown to us through her hugs, kisses, and pinches on the cheeks, her delicious food, or her willingness to sit and play solitaire with us for hours. It was shown to us through her love for my Uncle Kenny, who had Down syndrome.
My uncle was limited in his ability to do many things on his own, including speaking and feeding himself. He needed constant care and supervision. My grandmother would always tell us of when he was born and how the Doctor suggested she put him in a home to be cared for. My grandmother visited the "home" only to find overcrowded rooms where people with special needs were practically living on top of each other without enough people to care for them. My grandmother would say "When I saw how they were going to supposedly care for my son, I took him home to really care for him myself." And she did. To the very best of her ability, she and my grandfather cared for their son 24 hours a day for the rest of their lives. My grandmother lived to be 86 yea
rs old and my grandfather lived to be 95 with my uncle by their side until their last days.
What came with that depth of love was extreme sacrifice. Although they had my incredibly selfless mother by their side – always showing up to care for her brother alongside my grandparents – they often felt stuck in their home for fear that my uncle might react in a way that they wouldn't know how to handle in public. "What if he vomits when we're out to dinner?" "What if we can't find a bathroom?" "What if he punches himself?" Those concerns kept them homebound mostly. There was far less societal awareness and acceptance when my grandparents were raising my uncle. Far fewer opportunities and a lot more fear of judgment.
When my grandparents died, my mother became Uncle Kenny's primary caregiver. She struggled with what was best for him moving forward. She wanted to honor the story my grandmother had told us of how she refused to leave her son in a home. But she also knew that so much had changed in that regard. We, as her family, encouraged and supported her to consider giving him a new chapter in his life and my mother found the most loving home for Kenny. In fact, because of the loving and courageous choice that my mother made, my Uncle Kenny participated in events that he never had before. He was happy, he had new friends, new experiences, people who truly cared for him and he always had my mother by his side. My mother cared for my uncle from the time he was born until the day he died. She is behind so much of why I am passionate about offering my services and experience to others. The relationship she had with her brother is an exemplary lesson in love.
Now that my grandparents and my uncle are gone from this life, I have noticed a lack of tangible evidence of the incredible love and care that took place in that red brick house. The way my Uncle smiled when my grandmother sat close to him at the kitchen table and whistled. The way she gave him his morning coffee with a spoon. The way my grandfather clapped hands with Kenny. Even the moments of frustration and fatigue: The moments when my Uncle cried and we didn't know why or how to comfort him. The moments when he would reach out and grab us by the shirt with a grip tight enough to be held there until he chose to release his grip. Moments of laughter and support. The strength my grandmother showed when lifting my Uncle from his chair. The way Kenny smiled when my mother walked into the room. His bond with the caregivers who cared for him when my grandparents died. Very few of these moments exist in the form of a photograph. I've searched for them thinking that something must exist. We have some posed family snapshots from birthdays and holidays, but even those don't tell the story of the legacy that my Grandparents and my Uncle left behind. I asked my mother if my grandmother ever considered having a family portrait taken. She said "No. Mostly because we never knew if someone outside of the family would have the patience and understanding to capture them all or how Kenny would react."
I often feel that my grandparents kept themselves hidden from the outside world in order to give my uncle the best care they thought possible, considering what was (and what was not) available to them at the time.
Not having photographic proof of the relationships that existed between my uncle and our family saddens me. I so wish there was a photographer who offered the patience and understanding that my family would have been grateful to have so that I could now share their legacy of love through a visual art form.
It's that wish that has fueled my passion to be that photographer for other families who may still have fear what a photo session would be like for their family. Or maybe it's simply a matter of not knowing exactly how to capture the important role that their family members play in our world. The story between caregivers and the person being cared for is an important story to tell but perhaps a caregiver's mind is too full to even think about how important they are or why having their photos taken would be thought of as a gift. I encourage that investment for themselves, for their loved ones, for today's society, and for generations that will follow. That relationship is a model that we could all truly learn from and admire.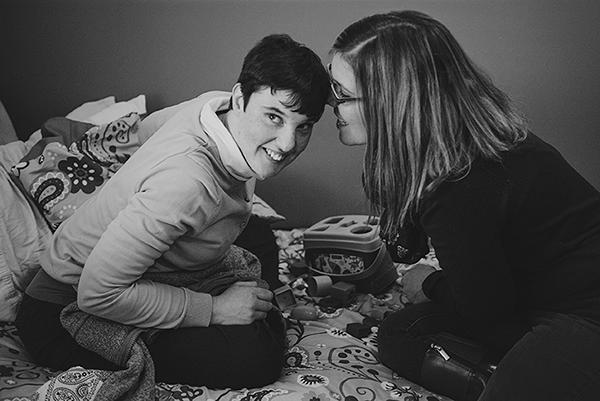 Today, there is so much more available to families who have a relative with special needs but there still seems to be, from my own personal observations, many families who don't recognize how much the world needs to SEE their contribution to our society. From my point of view – we could use a lot more visuals of us caring for one another to offset the rest of what we see happening around us constantly. I would like to be a participant in that idea. To show what unconditional love looks like. I want my work as a photographer to leave behind a legacy of a unique kind of love that exists within families where a loved one has special needs because I believe it's an important message. In addition to that, I want to gift those families with the proof of their own personal connection and loving kindness toward their loved ones for many generations to be inspired by.
This work is a tribute to my family and a big THANK YOU to them for showing me what true love looks like.